It's nearly 2015! Happy new year everyone! I read 61 books this year, which was one over my target, woop! Here are my top ten (in the order that I read them because I couldn't order them!):
here are eight, the other two were library or Kindle reads!
1.
Fangirl
by Rainbow Rowell (
review
)
After all the hype I couldn't ignore this one, and I'm so glad I didn't! Possibly my favourite book of the year. A must read for all fans of YA!
2.
Lobsters
by Tom Ellen and Lucy Ivison (
review
)
This had me laughing out loud in public places and making a fool of myself - and I couldn't care less. So funny and realistic and one that I'm sure I shall be revisiting whenever I need cheering up.
3.
The Secret Diary of Lizzie Bennet
by Bernie Su and Kate Rorick (
review
)
I adore the
Lizzie Bennet Diaries
and so this was a dream of a book. It fills in all the gaps of events only upon in the video diaries, including those exciting dates with Darcy ;) A must read for
Pride & Prejudice
and
LBD
fans!
4.
Boys Don't Knit
by T.S. Easton
Another one that had me cracking up! Such a fun book and so different to everything I've read before! I've had the sequel on my shelf for agesss now and I really must get round to it because this one was so fab.
5.
Silver Shadows
by Richelle Mead (
review
)
SO. MANY. FEELS. The Bloodlines series just keeps getting better and better! I'm super duper excited for The Ruby Circle but will be so sad when it's over. Just read them!
6.
Department 19
by Will Hill (
review
)
I was surprised by how much I loved this. I've had it for years and I'm kicking myself that I only read it in the summer. Looking forward to more of the series next year!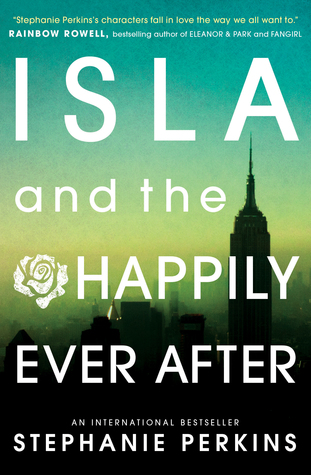 7.
Isla and the Happily Ever After
by Stephanie Perkins (
review
)
How could this not be on my list?! I think Anna's still my favourite but aww this is still just as adorable as expected from Stephanie's collection. Not to be missed!
8.
Since You've Been Gone
by Morgan Matson (
review
)
I think this ties with Fangirl for my top book of 2014. I LOVED this and devoured it in just a couple of days despite it's enormous size (and I read slowly this year). Definitely my favourite of Morgan's novels and I cannot recommend it enough. READ IT.
9.
Lies We Tell Ourselves
by Robin Talley (
review
)
So different to how I expected and so well handled. Absolutely beautiful. A must read!
10.
The Disreputable History of Frankie Landau-Banks
by E. Lockhart (
review
)
So much fun! Even better than We Were Liars, which I adored too. Cannot wait to read more from E. Lockhart because each book I read just keeps getting better and better.
What were your favourite books of the year?
What should I look out for in 2015? I'm so out of the loop so all recommendations welcome!